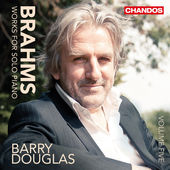 This album is the penultimate in what BBC Music has described as a "triumph of Brahmsian thought", namely the survey by Barry Douglas of the composer's complete works for solo piano.
Three years after the release of Volume 1, the winner of the 1986 Tchaikovsky Competition is now performing this repertoire in the finest international venues, such as the Wigmore Hall in July 2015 and Concertgebouw in 2016, when the series will come to a highly anticipated climax with the final volume. Taking a big step further in his career with this achievement, Barry Douglas is gaining a reputation of one of the few accomplished world-class piano virtuosi of the romantic repertoire.
This fifth volume is probably the most virtuosic to date, as it includes the transcendent Scherzo in E flat minor (among Brahms's earliest surviving compositions), technically demanding variations (especially Book II of the famous Op. 35; see Volume 4 for Book I), as well as several intermezzi, strongly marked by Brahms's love of metrical complications.
The album also features three tuneful Hungarian Dances, arranged by the composer for solo piano, repertoire new to Barry Douglas's Brahms exploration.
For more information, please click here!