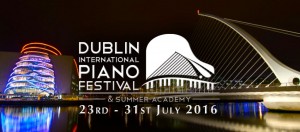 On the 28th and 29th July, Barry will return to Ireland as part of the Dublin International Piano Festival, during the 30th anniversary of his Tchaikovsky Competition win.
The festival will be celebrating its fourth anniversary and offers a range of lessons, masterclasses and concerts from several world famous pianists over nine days.
Barry's recital on the 28th July will take place at 8pm in the National Concert Hall. Located in the heart of Dublin's city centre, the fantastic venue is home to the RTÉ National Symphony Orchestra, Chamber Choir Ireland as well as the Irish Baroque Orchestra.
In a programme entitled Sublime to Monumental, he will perform Schubert's Piano Sonata No. 20 in A major and Mussorgsky's Pictures at an Exhibition; a work that contributed to his famous Tchaikovsky Competition win in 1986:
Pictures at an Exhibition is Mussorgsky's best-known work for piano and is said to have been inspired by the drawings and watercolours by artist and architect Viktor Hartmann. The ten movements contain a mixture of Russian Folk elements and virtuosic piano writing.
For the masterclasses on the 29th July, Barry will be joined by Ethan Uslan, who has won the World Championship Old-Time Piano Playing Contest three times as well as the Royal Irish Academy of Music's Lance Coburn.
Tickets for Barry's concert can be found here – an event not to be missed!
***
"Sharing a platform with an organisation such as DIPF, that has great vision and determination, is a real pleasure. What they have achieved in such a short time is astonishing." – Barry Douglas
'Fostering Excellence in Piano'
4th Dublin International Piano Festival & Summer Academy is excited to bring a captivating concert series.